The following blog photos are brought to you by Nicole at
The Madlab Post
...
It's time for
Letter Play
- Where DIY activities, cinema and life offline collide!
I'm curious to know how close you fellow A to Z folks pay attention to products, designs and signs that we may come across throughout the day. Can you guess where the following Ws are from in these photos?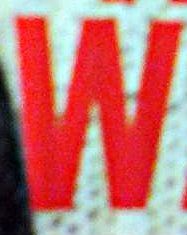 If you are a blogger, you have my permission to use these alphabet images so long as the usage is made during the month of April and is a part of a blog post that pertains to the Blogging from A to Z Challenge. As always, if you do display them on your blog, feel free to credit me and link to my blog or link back to this very A to Z Blog, where you found the photo!
Have a Fun Friday, everybody!
Sign up
for the Monday Movie Meme, a weekly group blogging series that inspires discussion about entertainment in a whole new light and provides recommendations for your DVD, on-demand or theater fix. New topics are posted every Monday at
The Madlab Post
!
NICOLE
Also
@MadlabPost
on Twitter