The following blog photo (alphabet letter only) is brought to you by Nicole Ayers at
The Madlab Post
....
First, I apologize for dropping the ball on our regularly scheduled
Friday Fun Time
program. This post comes a day late because I forgot to write one this week and didn't realize it until last night, as I was at an AMC movie theater in New York, watching "The Girl is In Trouble," starring actor Columbus Short and produced by independent film director, Spike Lee. You see, that's just it -- Letter
N
is for
News
today and I'm showing you guys one photo featuring a letter that describes one of the characteristics of news, whether it be on TV, radio or in print. That thing is: URGENCY!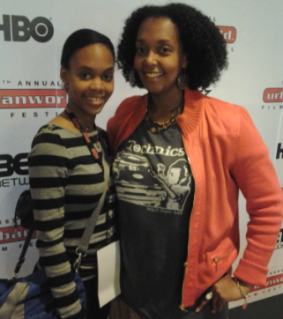 Me with Short Film "Barbasol" Writer & Producer Kiara C. Jones
More importantly, the urgency of me getting "Letter Play" up to date coincides with other writing duties -- duties related to my field of interest. Right now (read: this weekend), nothing is more
Urgent
than the 2012 Urbanworld Film Festival. Well, that AND me moving forward with the production of my short film due out later this Fall. So, I welcome you all to bear with me for the next week or so because things will be hectic but that still doesn't meant that I have forgotten about my A to Z Challenge peeps!
Here is a photo that you can use on your blog, if needed, for the Letter U during the A to Z Challenge in April:
Have A Great Weekend, Everybody!
Sign up

for the Monday Movie Meme, a weekly group blogging series that inspires discussion about entertainment in a whole new light and provides recommendations for your DVD, on-demand or theater fix. New topics are posted every Monday at

The Madlab Post

!
NICOLE
Also
@MadlabPost
on Twitter